These films were not only exhilarating, but ones that carried inside me and obsessed me on the most constant daily basis. These are my eternal classics:
 BEST of 2010
The Social Network – For adults, leave the kids out of it. The problem that even keen audiences had was wondering why Mark Zuckerberg (Jesse Eisenberg, a great egghead performance) would sell out his best friend (Andrew Garfield) so easily. The refusal for the film to explain lies within its genius really. Zuckerberg has a classic case of narcissistic streak that lends to detachment and personality sanction to dispose of people lesser than him. Eisenberg's take on Zuckerberg allows him to not need to explain to anybody as he is self-satisfied and absorbed by himself. Justin Timberlake's Napster guy Sean Parker was the only guy so cool that Zuckerberg looked up to in envy. The rest of everybody else around him are just interchangeable data. To the point, David Fincher ("The Game," "Zodiac") made a ceaselessly stimulating and thought-provoking film not about tagging and poking friends. Its sophistication aims for higher truths on the information age that defines us. The Ivy League elite, where the dot.com originated is a model hubris that merges power, status and revenge (in form of bragging rights) with high finance. But out of this unbarred greediness came an internet site that bridges the whole world together and makes people of the world happy every day. That could be the most ironically reaffirming notion of all. Aaron Sorkin's colloquial and savvy screenplay is one of the best ever written, and he ingeniously pivoted the story around two legal depositions.
Toy Story 3 – The few out there reluctant to attend because they think they are just going to get more of the same then it must be said: You are only depriving yourself unadulterated joy if you skip this. This is one of the few truly endearing children's films that lets you get in touch with the inner kid again and recalls for you what special relationship you had with toys growing up. All three films had this, but never has the writing been better. Not only does it have a 100 laughs but it actually makes you care so much that you get nervous for the toy's safety! As Woody's gang faces their apparition of Inferno in the final act, a collective heart is discovered amongst the toys that is as touching as anything found in Disney animated classics. Off the scales perfect, my favorite Pixar entry to date.
127 Hours – James Franco as the self-possessed exploration jock who got his arm stuck in the Utah Canyonlands. If you're like me, and you don't mind gruesomeness, the story of how he dispensed resources and self-monitored his temper to transcend an impossible situation is an intellectual and emotional adrenaline fix. Despite him being stuck, there is nothing static to hold back its relentless visual inventiveness and flashes into the sub-consciousness of a man assessing his life's triumphs and the follies that led to this unseemly predicament. Danny Boyle previously directed two favorites of mine, the brainy sci-fi "Sunshine" (2007) and the Oscar triumph "Slumdog Millionaire" (2008), and now with this, he proves he's really on a roll.
Soul Kitchen (Germany) – The kind of grown-up comedy like "Sideways" that many smart people crave, but usually can't find anywhere. It's here, except it just happens to be in German. It's one of the better feel-good movies of recent times, too. This fast-paced, rambunctious comedy concerns the high elations and crises of a young thirty-something restaurateur Zinos (Adam Bousdoukos, a beefier Jim Morrison type with Keanu Reeves' incarnation of Zen). He has major backache problems but no health insurance coverage (but what an excuse for him to have to depend on the cute physical therapist). Zinos' more urgent hurdles include dealing with his ex-con brother who wants to be restaurant manager, his battles with health inspectors, and his competitors with hidden agendas. The food looks great but just as mouth-watering is the bubbling romantic interludes. The kind of movie where you want to watch accompanied with a bottle of wine next to you.
Black Swan – Not always conventionally beautiful but always visually striking, and severely passionate. You might be awestruck by the way it sprouts fatalism into the world of ballet and its daily prerequisites of extreme discipline. Crafted with obsessive-compulsive detail, "Black Swan" is as much about paranoid schizophrenia as it is about ballet. I have always had doubts about Natalie Portman's abilities but her performance here is simply amazing, she not only raises the squeamish dread of the piece but conversely she brings a delicate beauty to the stage. Darren Aronofsky ("Requiem for a Dream," "The Wrestler") is one of the three most talented directors in the world, but although his sadism is too percolated within his work, at least this time it is a mind over matter sadism. This gives the canon of his work some variances.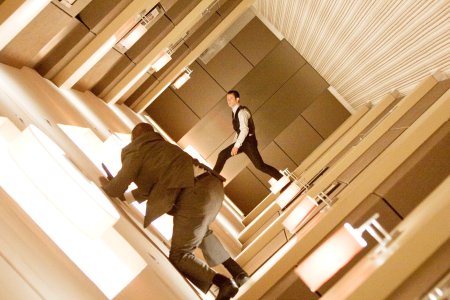 Inception – You needed to see it twice in order to wipe away some of the confusion, and still, it keeps you in an unsure state of hypothesis. Director Christopher Nolan presents multiple threads of reality, or dream stories, toppling over each other, ripples linking to each other, the narrative throttling forward and explaining little. How ambiguous and enthralling. The ardent and obsessed Leonardo DiCaprio is plagued as a dreamcatcher who wrongly implicates friends and loved ones inside the dreamworld, only to become dangerously obsessed himself. What adds so stirringly is Hans Zimmer's pulsating orchestral score (he also served magnificently as composer to "The Dark Knight"), which lifts this up to an action symphony.
The Fighter – There is a reason why Mark Wahlberg has to be the normal, more easy-going character for the center of this particular movie. It's because Melissa Leo and Christian Bale, as demented control freak mother and crack addict brother, are a tornado of drama that hurls his potential off-course. Wahlberg's 5-years going pet project was this biopic with him as welterweight boxer Micky Ward, and he found the perfect director in David O. Russell ("Three Kings," "Flirting With Disaster") whose knack is stirring up family mania for the camera. This is as rowdy a portrayal of lower side Boston streets as the movies have seen. It's perhaps deliberate that family squabbles are more intense than the actual boxing bouts.
Greenberg – Fascinating character study with Ben Stiller as the titular borderline personality disorder case, yet that's my pinned diagnosis. He's an idler and complainer of life with no prospects, only a failed band behind him that its failure was his fault. You might be thinking, What do I need to see a film about a downer like this for? But we've all met malcontents like him before, and miraculously, we see the layers to his being. Noah Baumbach makes it all mordantly funny, and the caliber of vocabulary is uncommonly high. It's strange how interesting this film is.
The Chaser (South Korea) – This is the kind of grisly genre you normally might reject, but this is an exceptional serial killer and race against the clock thriller. Loosely based on a true story, a pimp (Kim Yoon-seok)apprehends an alleged serial killer (Ha Jeong-woo), whom he first mistakes as a mere business rival, who can only be detained by police for ten hours before he is released again. Meanwhile, a barely alive prostitute is hemorrhaging and hog-tied on a grimy bathroom floor while the killer is in temporary lock-up. The pimp gets industrious collecting leads and evidence as time winds down, with some negligent support by his side. Rarely in the movies has there been a police procedural that takes in the account of tiredness that is inexorable for officers during nightshift. It's all about the pimp working faster than the cops.
The Town – On a Boston crime movie double bill, "The Town" should be the opening act and "The Departed" should be the main event. But that's still a compliment. Ben Affleck, Jeremy Renner, Albert Magloan and Pete Postlethwaite are the bad boys of Charleston whom unceasingly clamor for street cred. The film has a rattling excitement, and the action scenes demonstrate an exceptional editing beat. The crucial factor of its success is to make Affleck's character a human being that we care about – do we credit Affleck the actor or Affleck the director? Affleck as a director makes head-banging efforts to make the bank robberies different from other larcenies we've seen, and he makes Boston his own degenerate cesspool. Double-crosses, twists, the binds (and snaps) of loyalty exceed expectations – it's more than a one-note crime movie. Jon Hamm is a stiff, straight-arrow lawman of the Tommy Lee Jones kind. Rebecca Hall is credible, and pivotal, as a bank hostage who later unwittingly forms a supple relationship with one of the robbers who was masked at the time.
Also worthy alphabetically listed: The American; Another Year (Britain); Chloe; The King's Speech; Please Give; The Secret in Their Eyes (Argentina); Shutter Island; Solitary Man; Splice; Unstoppable
Milestones:
Best Actor and Supporting Actor: Jesse Eisenberg in The Social Network and Christian Bale in The Fighter
Best Actress and Supporting Actress: Natalie Portman in Black Swan and Melissa Leo in The Fighter
Best Cumulative Work: Michael Douglas in Solitary Man and Wall Street: Money Never Sleeps; Julianne Moore in The Kids are All Right and Chloe
Best Music Score: Inception by Hans Zimmer
Most Imitated Robert DeNiro performance: Ryan Gosling in Blue Valentine 
Best Robert  DeNiro Performance: DeNiro in Stone
Worst Robert DeNiro Performance: DeNiro in Little Fockers
Best Empathetic Performance of a Hateful Character: Ben Stiller in Greenberg
Best Natural Special Effect: The train in Unstoppable, the best movie Tony Scott has ever made
Best Artistic Use of Split Screen: 127 Hours
Best Musical Interlude: Buzz Lightyear doing the Flamenco in Toy Story 3
Best Love Scene: Soul Kitchen
Best Sex Scenes: Splice and The Kids are All Right
Two Hundred Eyebrow Twitches too many: Kristen Stewart in Eclipse
Worst Actress: Katherine Heigl in Killers
Worst Actor: Sergio Peris-Mencheta in Love Ranch
Worst Films of the Year: 
The Bounty Hunter – So idiotic it makes "Ms. Congeniality 2: Armed and Fabulous" look crime-smart and savvy in comparison. Gerard Butler as the title character can hardly be bothered looking at anybody other than himself. Jennifer Aniston is the divorcee who gets handcuffed to him and has a clichéd love/hate thing with her meatloaf ex.
Killers – Meant as harmless entertainment, but it is so grating and false that it turns into a degrading experience for thinking adults (and thinking children). Horrible casting pit Ashton Kutcher as a professional killer turned early retiree and Katherine Heigl as his lame-brained homebody wife. In lieu of everything, I still wanted Kutcher to blow Heigl away.
After.Life – Christina Ricci walks around as a naked corpse and Liam Neeson is the mortician who sees/prepares dead people, in a horror flick that snails around a funeral home. Don't confuse it with the poignant 1998 Japanese film "After Life."
Jonah Hex – Megan Fox unfairly condemned by many as the year's worst actress, a kneejerk response to peg the blame onto somebody. Really, she's the best thing in it. God forbid anybody criticize thespian John Malkovich for his lazy and disinterested performance as the villain or Josh Brolin for his off-putting croakiness. Doesn't help that Jimmy Hayward holds even his best shots for no more than 1.5 seconds.
Cop Out – Get ready for potty jokes, private parts jokes and foul porno lingo. Bruce Willis and Tracy Morgan share an extreme chemistry disorder as mismatched cops. It's about time that you accept news that Kevin Smith is one of the worst directors in Hollywood especially detected when he's directing somebody else's script.
The A-Team – Only Liam Neeson comes through. Too often, the movie couldn't care less about changing its mind about its characters every five minutes. The whole thing is edited like a 2-hour coming attractions trailer.
Love Ranch – Sounds like intriguing sleaze: Joe Pesci and Helen Mirren as proprietors of the first legalized brothel in the state of Nevada circa 1976. But it gets off-topic real quick when the two of them get involved in managing a boxer played by the very boring Sergio Peris-Mencheta.
The Switch – Jennifer Aniston treats the movie screen like it was a sitcom (dumb script is no help), but the rude shock is that for the first time Jason Bateman, as the unintended sperm deposit, is boring.
The Last Song – Sticky-cheese for a tearjerker. It's about time somebody comes out and tells Miley Cyrus that she cannot act.
The Prince of Persia – It's about time Jake Gyllenhaal comes out and admits that he was ridiculously miscast.